Eurostyle Floors is leading stockist of Osmo Hardwax Oil in Sydney, NSW.
Natural wooden floors and timber furniture add a stylish dimension to any home. To maintain the integrity of your timber facade for as long as possible, it makes sense to invest in a premium grade wood protector oil to strengthen and prolong its quality over the long term.
Our unique Osmo Polyx Oil solution is suitable for both interior and exterior timber solutions including timber or cork flooring, baby cots, bassinets, sarking, panelling, exposed beams and benchtops. Widely recognised for it's superior durability, versatility and low maintenance features, it's guaranteed to be a winner on any timber finish.
Whether you have Oak, Teak, Pine, Kauri, Eucalyptus or Jarrah timber, Osmo Polyx (Hardwax) Oil is guaranteed to restore and enhance its natural beauty.
At Eurostyle Floors, we work closely with the best timber oil brands in Sydney that reflect great value for money while delivering a high quality timber finish you can trust.
One of the enormous benefits of using the OSMO coating on timber is the ability it has to retain the natural character and charm of the wood without damaging the original surface quality.
When you consider how often we use our flooring on a daily basis, applying the right surface oil protection is one of the best investments you will make for years to come.
Keen to learn more about our high quality wood protector oil or hardwax oils in Sydney?
As your timber wood specialist, were here to help.
Eurostyle Floors PTY LTD is a proud stockist for Osmo Natural Timber Oil in NSW.
"Only wood specialist has the necessary knowledge to develop an optimal wood finish."
With Osmo natural wood finishes, the wood surface retains its natural character and charm, but also becomes abrasive, water and dirt resistant - a long lasting surface protection against those small daily mishaps.
Product quality
low percentage of solvents (high solid/full solid)
easy to apply with a paintbrush, floor brush or microfiber roller (scraper for professionals)
primer and final coat from just one tin
very good coverage
Environmentally friendly
Surface quality
surfaces have a natural appearance and feel
the natural grain of the wood is enhanced
the coating is completely safe when dry in accordance with EN 71.3 (suitable for use on children's toys) and DIN 53160 (fast to perspiration and saliva)
completely odourless when dry
extremely resistant to damp and dirt in accordance with DIN 68861-1C (resistant to red wine, coffee, fizzy drinks etc.)
does not crack, flake peel or blister
easy to care for and maintain using specially designed Osmo floor care products
partial renovation possible without needing to sand the entire floor area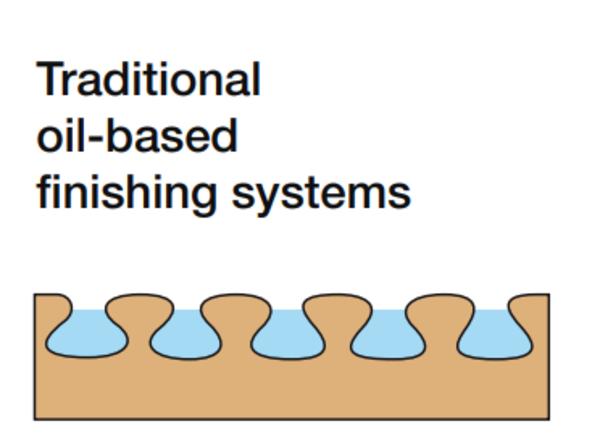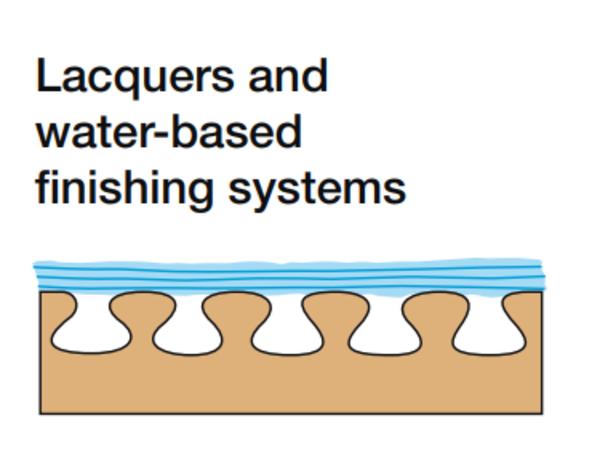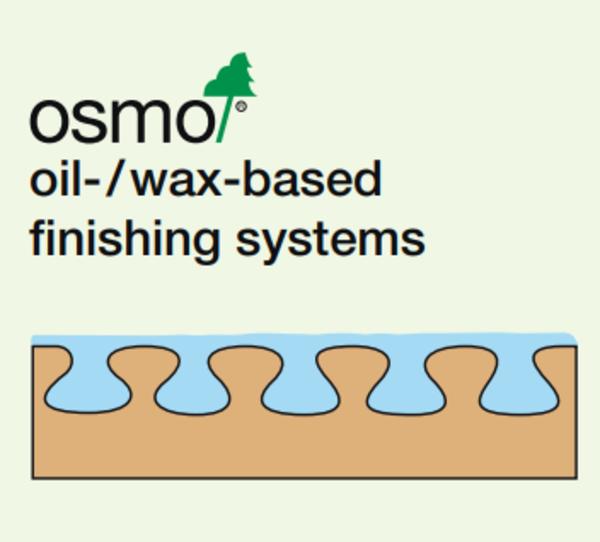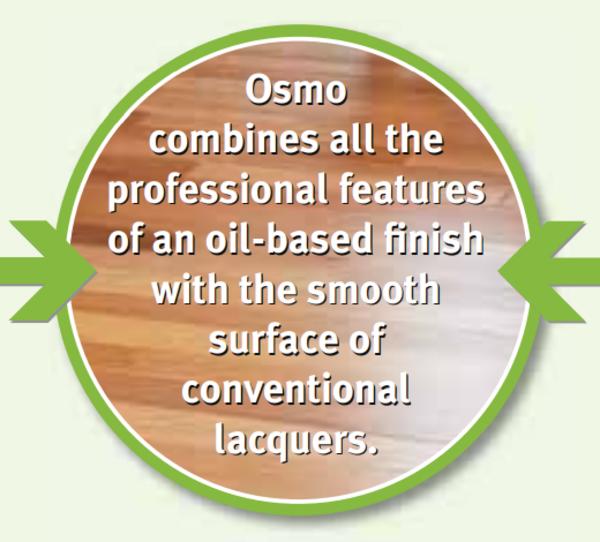 OSMO Polyx (Hardwax) Oil
Osmo Polyx (Hardwax) Oils are a durable, low maintenance, oil and wax finish for interior timber or cork flooring, as well as timber furniture including baby's cots, bassinets and playpens. Also suitable for exposed timber beams, sarking, paneling and timber benchtops. Suitable for a variety of timber types - both hardwood and softwood - such as Pine, Kauri, Oak, Eucalyptus, Teak, Jarrah and Douglas Fir (Oregon).
Available in 4 sheen levels: Gloss, Satin, Semi-Matt (Lo-sheen) and Matt.
For timbers which are oily by nature, such as some species of Eucalypt, Kwila/Merbau and Rosewood etc, it is recommended that the timber's surface be wiped over with a solvent to remove any oil present, before applying Polyx Oil. A suitable solvent would be Osmo's Brush Cleaner and Thinner.
Polyx Oils are based on natural oils and waxes, which penetrate deeply into the surface to enhance and maintain beauty and elasticity. As durable as polyurethane, and far easier to repair when scratched or worn down. Polyx Oil, once fully cured, will not crack, flake, peel, blister or water mark and is stain resistant against wine, beer, cola, coffee, tea, fruit juices, milk and water.
Easy to apply, with 2 thin coats being applied 12 - 24 hours apart. Sanding in between coats is generally not necessary. Excellent coverage rate of approximately 24 square metres per litre. The preferred method of application is by good quality bristle brush. Osmo's floor brush applicators are ideal. A low nap microfibre roller may also be used. Please read the data sheet for details.
Easy to maintain with any plant based soap such as Osmo's Wash and Care for damp mopping, and Liquid Wax Cleaner for buffing the timber when needed.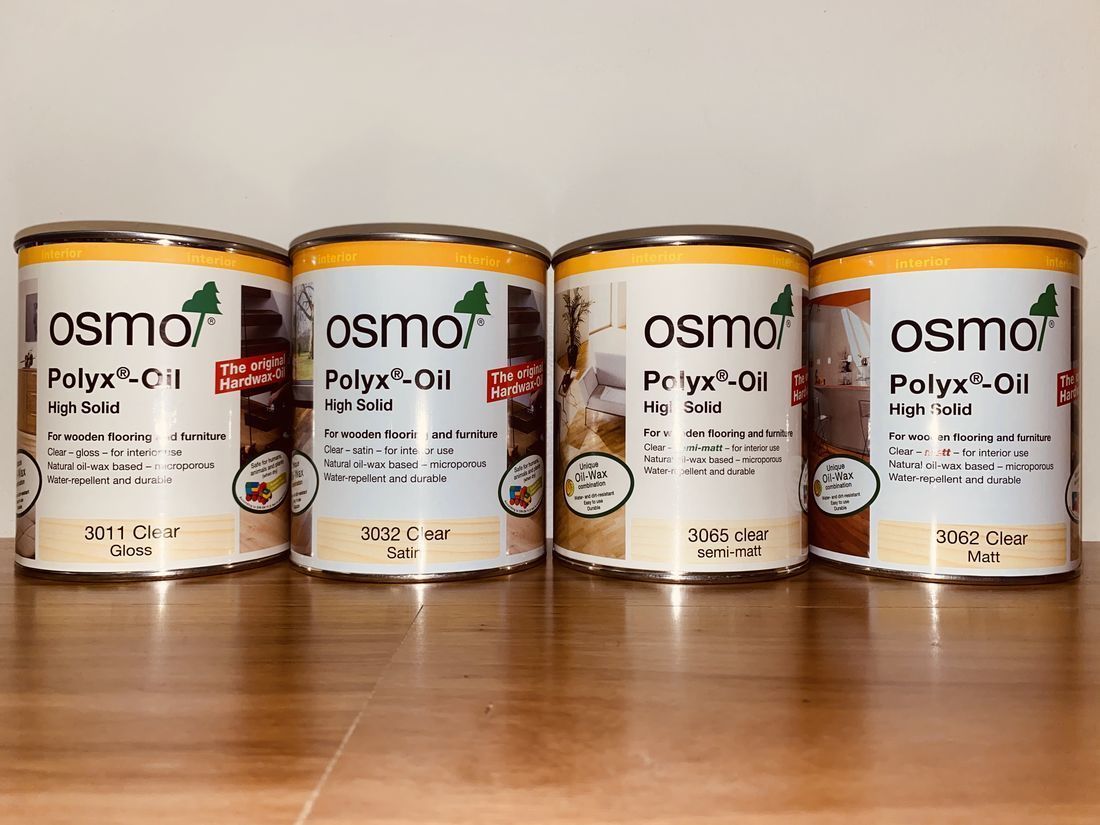 OSMO Polyx Oil - RAW
Polyx Oil Raw is a clear raw finish for interior use. It is especially recommended for wooden flooring, and is most suited to light coloured wood species.
Oils such as Osmo's renowned Polyx Oil accentuate the natural colour and grain of the timber with white pigment, giving it a permanent "wet look". The new Polyx Oil Raw counters this exaggeration of the wood's colour, leaving the surface looking as near to natural as possible.
The finish is close to being invisible to the eye, and retains as much of the wood's natural colour as possible.
An easy to apply 2 coat system. No need for a primer coat, or sanding between coats. The dry finish is food safe, as well as safe for humans, animals and plants. Polyx Raw contains no biocides or preservatives. The finish is resistant against coffee, tea, wine, cols, fruit juice milk and water. It is suitable for children's toys, and is fast against perspiration and saliva. Easy to maintain or repair if damaged.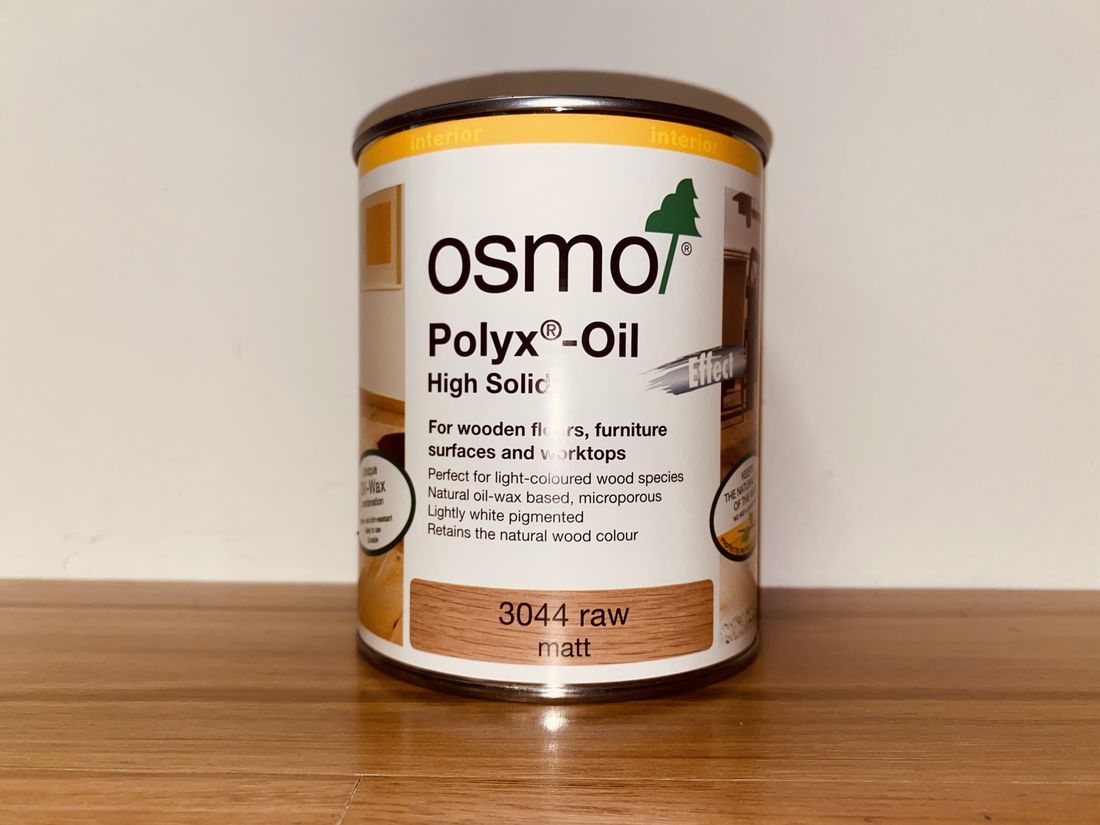 OSMO Polyx Oil Tints
Osmo Polyx Oil - Tints is an original Polyx Oil Satin, which contains a small quantity of tint to provide a very faint coloured effect.Designed for use on wood or cork flooring, but may also be used on timber furniture and general interior trim such as architraves etc.
For interior use only, and best suited for light coloured timbers, plywood, veneers, particle board and mdf board. The final colour or appearance will be influenced by the colour of your timber. Best results are achieved with timbers such as oak, pine, cypress, spruce, and larch.
One coat (maximum two coats are possible on softer woods) is sufficient to produce a durable, faintly coloured finish. After the tint is dry, apply a final coat of one of the clear Osmo Polyx Oils. (On cork, it will be necessary to apply 3 or 4 coats to achieve the same effect, as cork is so porous.)
OSMO Woodwax Finish
Colour your world with Osmo Woodwax Finish Intensive. Rejuvenate old and worn furniture, or create your own colour scheme for new furniture with one of the modern colour shades. The finish will be transparent with one coat, and an opaque painted effect with two coats. One coat will have a matt finish, and two coats will have a soft satin sheen.
For use in all areas of your home, Woodwax Finish Creativ is especially recommended for wooden furniture and children's toys, as well as timber wall paneling, sarked ceilings, doors and mouldings. Not suitable for wooden flooring.
The perfect finish for your child's bedroom furniture. Formulated from natural vegetable oils and waxes, Creativ contains no biocides or preservatives, and is safe for humans, animals and plants when dry. The finish will not crack, flake, peel or blister, and is water repellent and dirt resistant. The finish is resistant against milk, fruit juices, tea, coffee and cola etc when dry.
Create your own colour. All Woodwax Finish Intensive colours can be intermixed to create your own personalised colour scheme.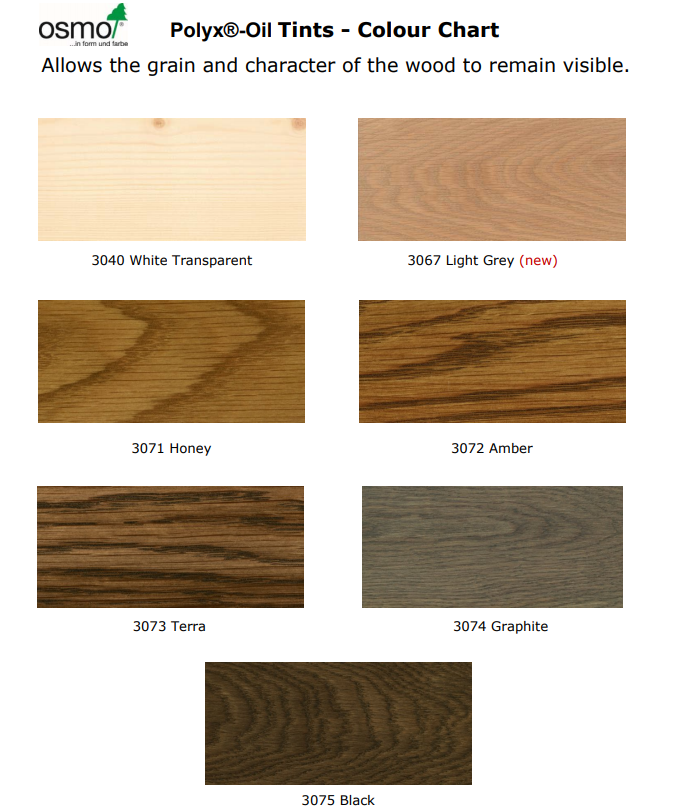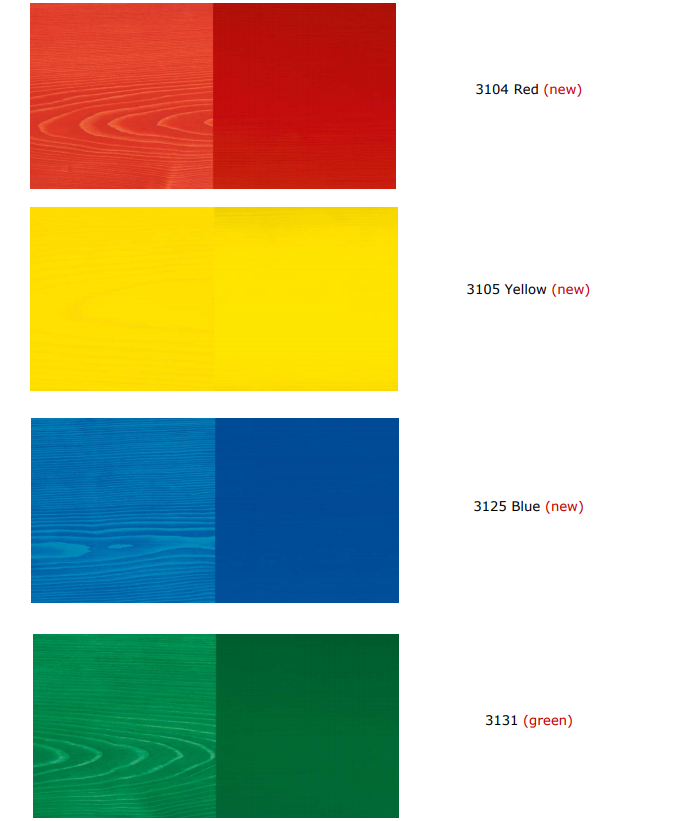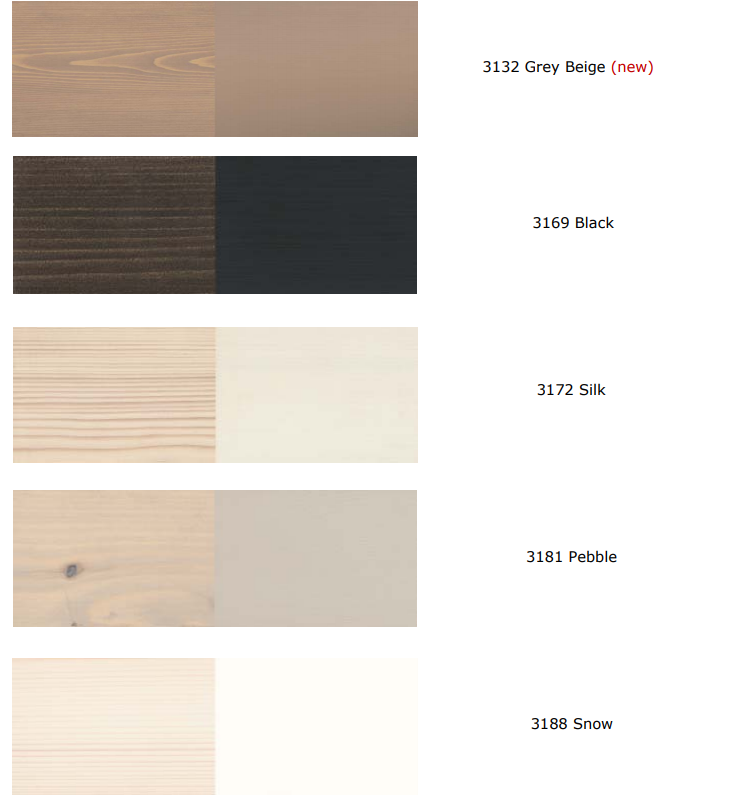 OSMO Clear - Extra Thin
Osmo Woodwax Clear Extra Thin is a transparent finish for interior timber flooring which has a high resin or oil content.
Timbers such as Kwila, Merbau, and Rosewood have a high oil content which helps protect the timber against rot, blue mould and insect attack. These oils can retard the drying time of the thicker Polyx Oil. Timber with a high oil content can take up to 10-14 days for the Polyx oil to dry. It all depends on how much oil is present in your timber. A trial is suggested first to determine suitability.
Timbers with a high oil content, should be washed with a solvent (such as white spirit, or citrus turpentine) first, to remove any oil on the surface. When dry, OSMO Woodwax Clear Extra Thin can be applied as a primer coat for Osmo Polyx Oil or used as finish in its own right.
When using Osmo Woodwax Clear Extra Thin as the preferred finish for your floor, two coats are recommended. The oil will penetrate deeply into the timber's structure. Woodwax Clear Extra Thin is a totally matt finish, which will bring out the natural grain of the wood, and makes the surface water repellant and dirt resistant. To lift the level of finish from matt to a low sheen, Osmo's Liquid Wax Cleaner can be buffed into the timber.
Where a more durable finish is required, it may be possible to apply two very thin coats of Polyx oil over the top once the thin coats have cured. We suggest doing a trial piece first, to assess your timber's suitability.
OSMO Wood Protector
Osmo Wood Protector is a clear, matt finish, wood primer and preservative for interior and exterior timbers. Specifically designed for timbers which are susceptible to blue stain and mould - such as Pine, Douglas Fir (Oregon) and some spruce species - which are being used in areas of damp and high humidity, like bathrooms, laundries and interior window frames.
Wood Protector is biocide free, and is suitable for use on children's toys and playground equipment. It is based on natural oils and waxes, and is extremely water repellant. Only one coat is required, followed by a top coat of Polyx Oil.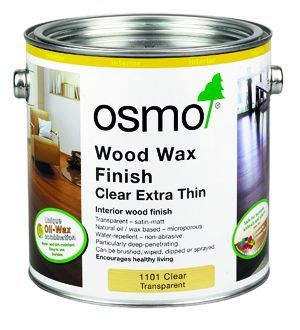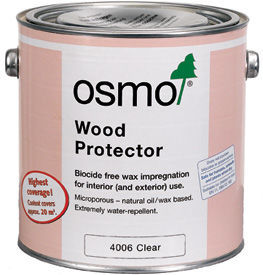 OSMO TopOil
Osmo TopOil is a micro-porous, clear finish for wooden kitchen work tops and general interior joinery such as coffee tables. Available as a clear satin or matt finish plus "Natural" which is lightly pigmented product to reduce yellowing, and "Acacia" which is a light transparent brown.
The TopOil surface is extremely tough and hard-wearing. It is water-repellent and dirt-resistant. The finish is resistant against wine, beer, cola, coffee, tea, fruit juices, milk and water etc. when dry according to German Industrial Standards (DIN 68861-1A). Based on natural oils and waxes, the finish does not form a film like a polyurethane, so it cannot crack, flake, peel or blister. Dirt can easily be removed without trace.
Osmo TopOil is easy to apply - only two thin coats, with no primer. Renovating surfaces - even partially - which have been previously treated with TopOil is simple. Just clean and re-treat the worn areas. No sanding, no repair marks, and no removal of previous TopOil finish. Coverage from a 500ml can will be approximately 6m2 (two coats) and 10m2 for renovation. Coverage rates are approximate, and depend on the type of timber being treated. Drying times may be longer when TopOil is used on oily and resinous timbers. We recommend doing a trial first to determine suitability.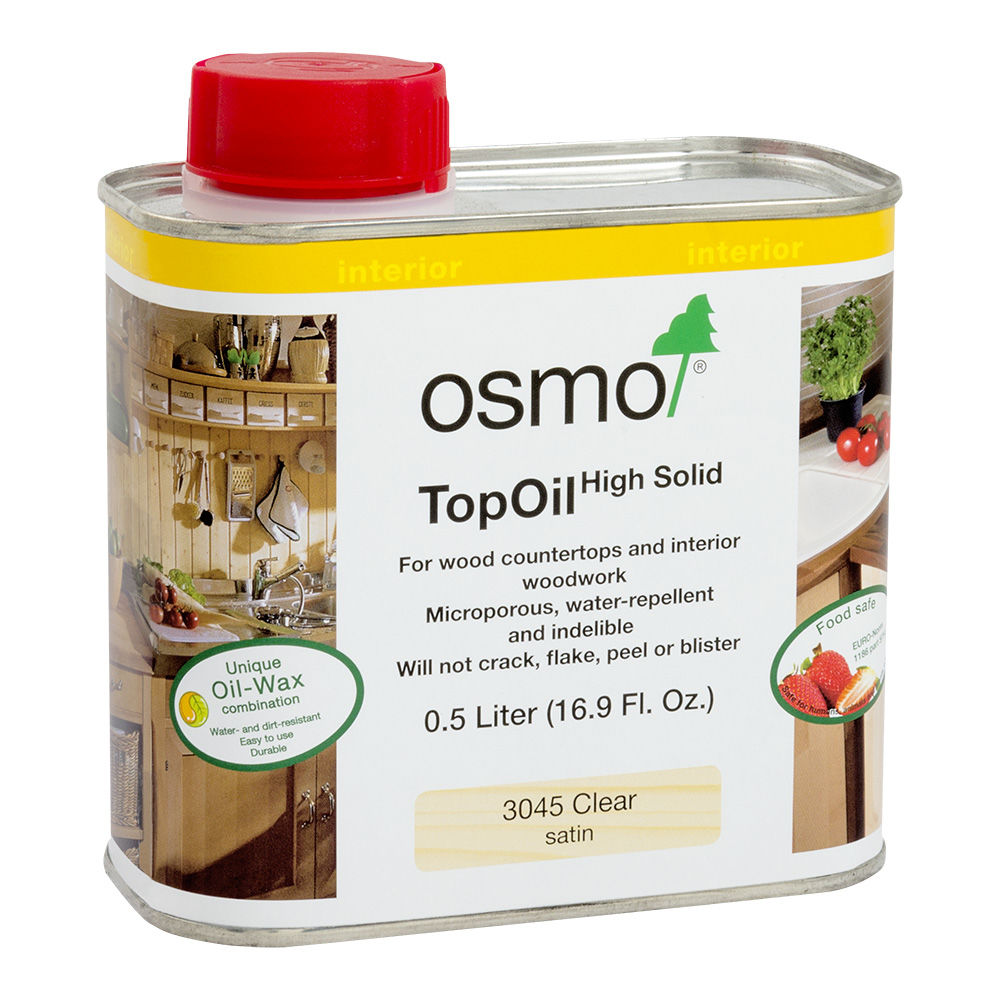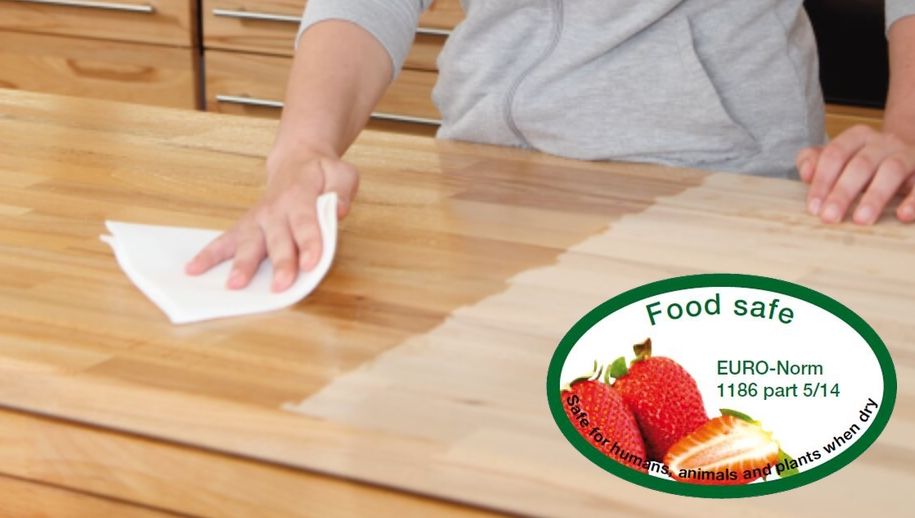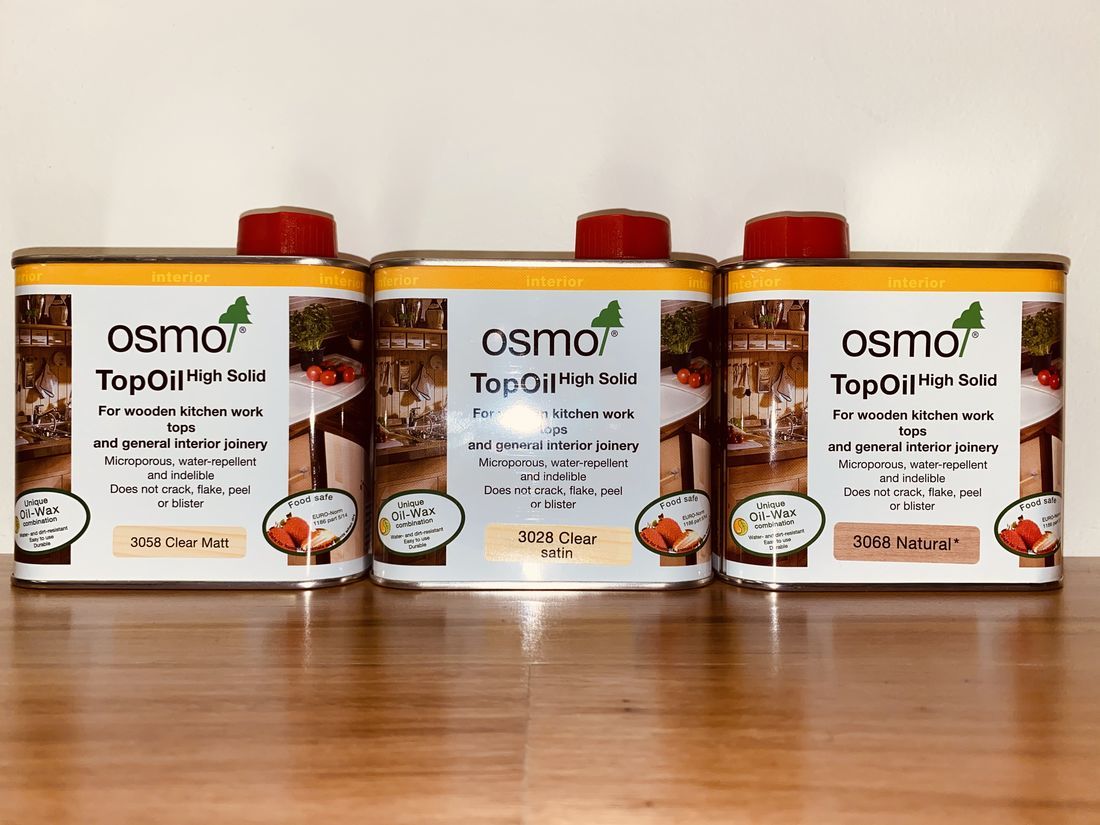 OSMO ANTI-SLIP
INDOOR Polyx Anti-slip Oil
Osmo's Polyx Oil Anti-slip Extra is a clear satin finish for wooden floors where extra grip is required underfoot. Polyx Oil Anti-slip Extra is a professional floor finish which is extremely tough, hard wearing and slip resisitant. It can be used anywhere normal Polyx Oil can be used. It is especially recommended for wooden stair treads, or wet areas such as bathrooms and laundries where extra grip is required. Also highly recommended for areas used by persons who are not fully mobile - such as elderly people who use walking frames. Special ingredients give the surface a slip resistance of R11 when dry, which exceeds the Australian standard of R10.
Once fully cured, the finish will not crack, flake, blister, peel or water mark. It is resistant against wine, beer, cola, coffee, tea, fruit juices, milk and water. As durable as a polyurethane, and far easier to repair when scratched or worn down. Coverage is approximately 24 square metres per litre per coat. Easy to maintain with one of the Osmo maintenance products when needed.
OUTDOOR Anti-slip Decking Oil
Osmo's Anti Slip Decking Oil is a clear finish for all exterior timber decking and staircases. It can be used as a stand alone clear finish (2 coats) or as a top coat over a coloured base coat of either Osmo's Wood Oil or Natural Oil Woodstain.
The oil contains special compressed organic particles, which are evenly dispersed within the finish, providing an anti slip surface when dry.
Easy to apply - either 2 coats or 1 top coat. Application is by good quality stiff bristle brush. Drying time is 12-24 hours depending on ambient temperature and humidity. Easy to maintain with a clean down and rejuvenation to areas showing signs of wear.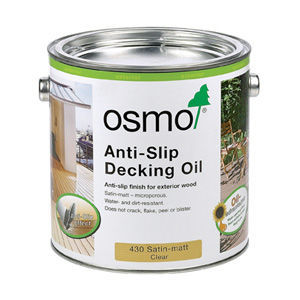 OSMO UV Protection Oil
Osmo UV Protection Oil - Extra is a natural oil based, clear, microporous, satin finish for new exterior timber joinery and timber garden furniture. It can be used as the final coat over newly applied oil based stains, or as a stand alone clear 2 coat finish. Available as a clear finish or in the timber tones of Oak and Cedar, and the new Natural.
When used by itself as a 2 coat finish, it blocks the greying process of the timber by a UV protection factor of 12, when compared with untreated timber. This is a similar principle to the SPF system of sunscreens we use on ourselves.
Osmo UV Protection Oil - Extra is water and dirt resistant, and is moisture regulating; reducing swelling and shrinkage of the timber. Easy to apply and maintain, the oil highlights the natural tones of the timber by giving it a "wet look".
OSMO Decking Oils
Osmo Decking Oils are a range of transparent coloured oils for timber decks. They are designed and produced to meet the individual demands of exotic wood species. Suitable for most exterior timber decking. The names of the colours (e.g. Bangkirai, Garapa and Massaranduba) reflect the colour of that particular timber. For example, Massaranduba is a red/brown timber similar to kwila/merbau.
Coverage is 16-20 square metres per litre on hard woods, with reduced coverage on softer woods such as pine. Either a 2 coat application as a stand alone finish, or one coat if the oil is being used as a base coat under one of Osmo's clear exterior oils such as Anti Slip Decking Oil. Easy to maintain and rejuvenate.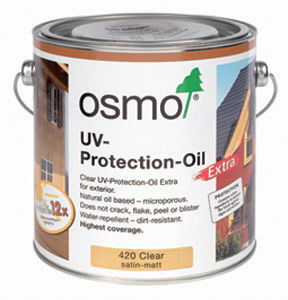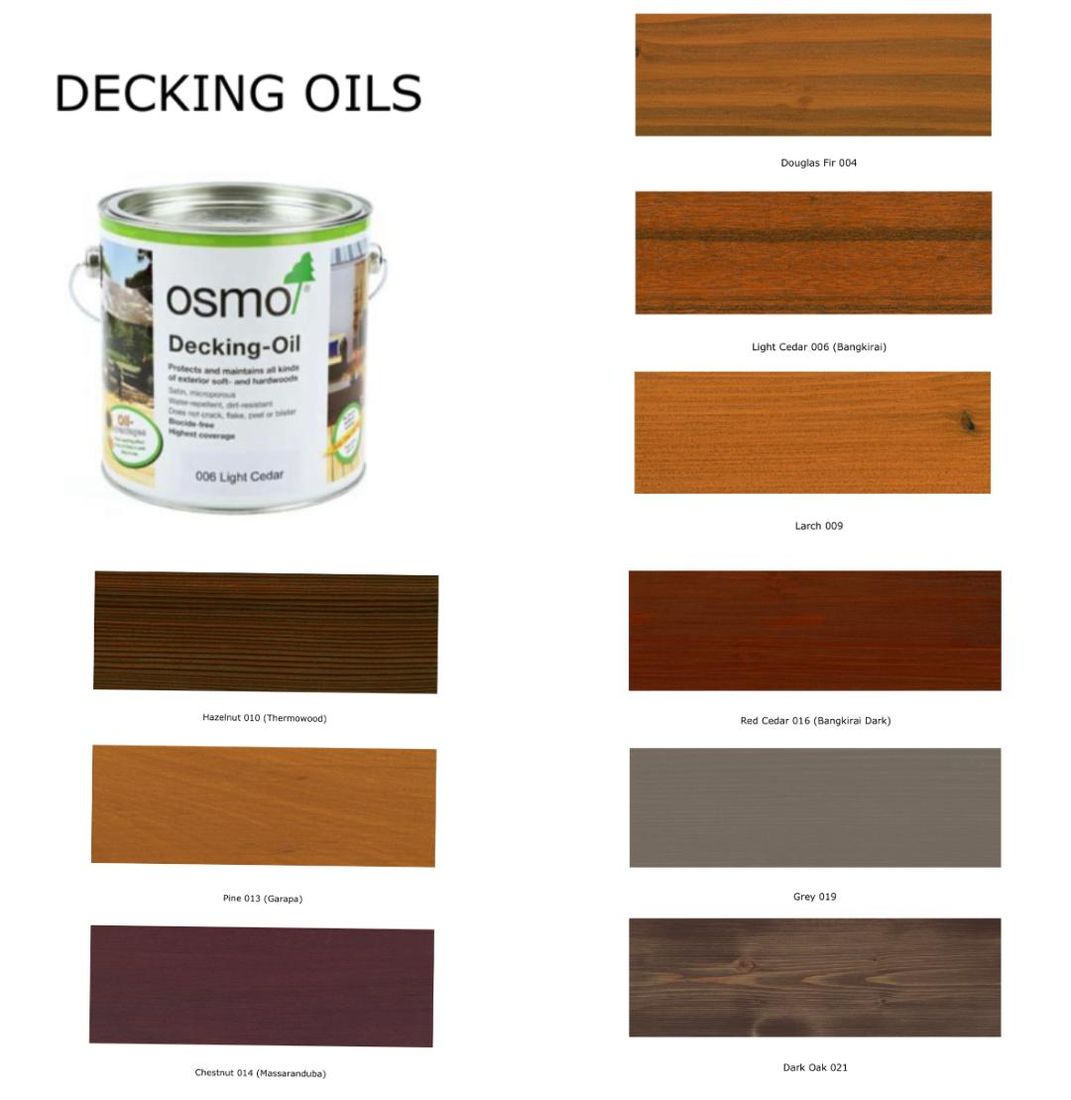 MAINTENANCE PRODUCTS
OSMO Interior Spray Cleaner
Ready to use spray solution for everyday cleaning and maintenance – especially developed for oiled and waxed wood surfaces. It contains soaps based on natural oils. The wood does not dry out from cleaning.
The water-soluble ingredients prevent streaks and do not form a layer. Especially mild on skin, free of dyes and aromas, biodegradable, free of solvents and emissions, and thus it supports a healthy living environment.
OSMO Wash and Care
In most instances, sweeping your floor using a soft broom, or the Opti-Set dust mop, is all that is required for day to day maintenance.
If your floor is in need of a damp mopping to remove surface dirt etc, Osmo's Wash and Care is the ideal general cleaner. Just add a capful to 5 litres of warm water, and use a damp mop or the Opti-Set micro mop. For more stubborn stains, the cleaner can be used neat from the container.
Wash and Care can also be used on any flooring surface which has been varnished or polyurethaned etc. It can also be used to clean polished concrete, slate, stone and sealed teracotta surfaces.
OSMO Liquid Wax Cleaner
Liquid Wax Cleaner is ideal for use on floors and other timbers which need more than a general clean, or are looking a bit faded. It has been formulated for rejuvenating previously oiled timber floors and furniture. The wax rejuvenates and cleans at the same time. It is easy to use and very economical, with 1 litre covering 80 - 100 square metres. Perfect for removing any heavy stains or light scratches. Based on natural carnuba and candelilla waxes, as well as containing a small amount of Polyx Oil.
Liquid Wax Cleaner can be buffed in by hand using a soft lint free cloth; with the Optiset, using the micro fibre cloth or with the FloorXcentre using either the white polishing pad, or microfibre pad.
OSMO Decking Cleaner
Osmo Decking Cleaner is a highly effective cleaning concentrate for untreated or previously oiled timber decks. Also suitable for cleaning any outdoor timber such as screens, trellis, gates and garden furniture.
Deck Cleaner is designerd to refresh decks before re oiling. It will not rejuvenate timber decks which have greyed off. For this we recommend using Osmo Wood Reviver Power Gel.
OSMO Wood Reviver Gel
Osmo Wood Reviver power gel is a special liquid detergent for cleaning and refreshing external timbers which have gone grey, such as decking, garden furniture, pergolas and other trim.
Easy to use. The gel has a thick "no drip" consistency which makes it ideal for use on both horizontal and vertical surfaces. The 2.5 litre can is supplied with a free scrubbing brush which can be attached to a broom handle. Perfect for cleaning decks. Osmo Wood Reviver is solvent free, and contains no formaldehyde, chlorine compounds or amines. The active ingredient is oxalic acid (<5%) which is biologically degradable.